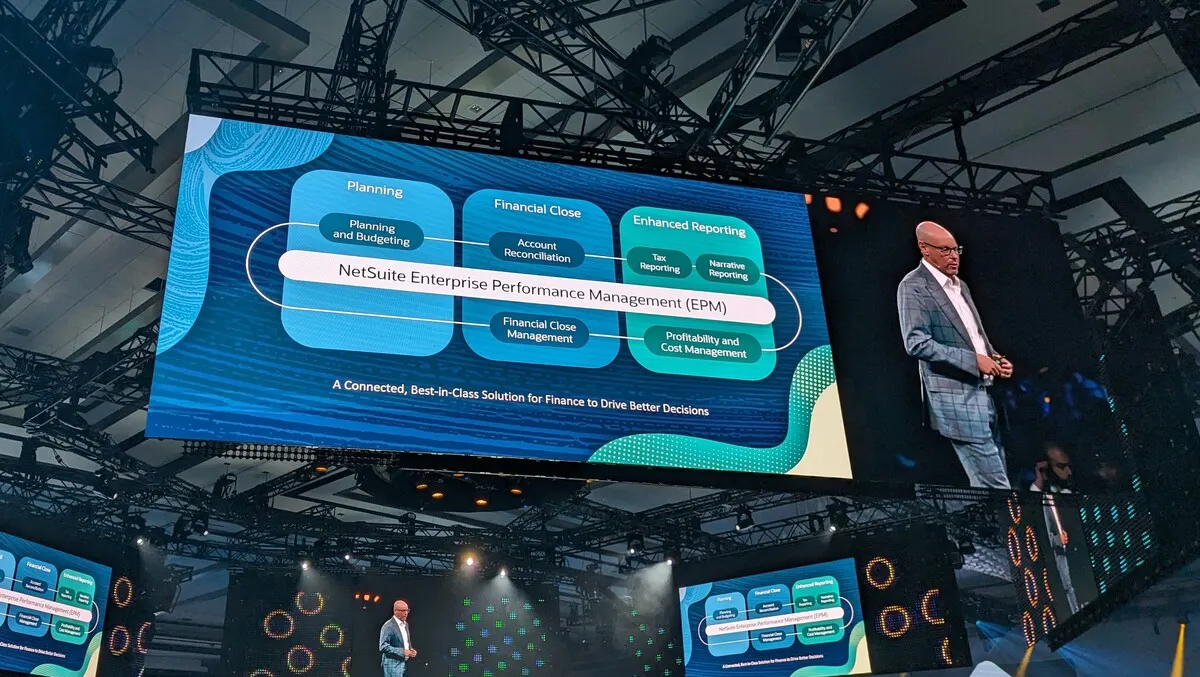 The biggest announcements from day 1 and 2 at SuiteWorld 2023
Wed, 18th Oct 2023
SuiteWorld is back for 2023, and the Annexa team are on the ground in Las Vegas, bringing you all the important updates and news from the action-packed three-day event. With day one and two over, it's already shaping up to be a big one with many more product announcements than in past years.
As anticipated, the keynote included a slew of generative AI-based product announcements centred on helping customers save costs and derive deeper insights from their data.
Before we get into what's new, a word on NetSuite's artificial intelligence (AI) and machine learning (ML) capabilities. Oracle's AI and ML capabilities are built on Oracle Cloud Infrastructure (OCI), which means they inherit the security and privacy measures Oracle has built into the platform. NetSuite, in fact, emphasised that all data remains confidential and is not shared with large language model providers, other customers, or third parties. For custom models trained using a customer's data, they are exclusive to that particular customer.
So, let's look at what's new in the NetSuite platform and ecosystem.
Enterprise Performance Management (EPM) – a connected solution for finance
Already benefiting from native access to NetSuite Analytics Warehouse (NSAW) and NetSuite Planning and Budgeting (NSPB) courtesy of Oracle, one of today's top announcements brings even more exciting news for NetSuite customers. Oracle's Enterprise Performance Management (EPM) suite of applications is on the horizon for NetSuite users, and it promises to be a powerful 'next step' in financial automation.
NetSuite's EPM offering consolidates various key financial and operational processes - such as planning and budgeting, account reconciliation, profitability and cost management, corporate tax reporting and narrative reporting - into a unified system.
Narrative reporting is perhaps the most exciting capability on offer. NetSuite says it uses AI and machine learning to provide context around raw financial data by pairing figures with written explanations or 'narratives', making financial data more accessible and actionable.
There's no word yet on when NetSuite EPM will be available for Australian customers – but we are looking forward to rolling out these game-changing financial capabilities to our clients.
NetSuite Analytics Warehouse – More decisions, fewer siloes
Upcoming enhancements to the prebuilt data warehouse and analytics solution NetSuite Analytics Warehouse (NSAW) focus on the incorporation of AI-powered predictive analytics and other features designed to improve user experience and functionality.
One standout includes the ability to embed analytics directly into user dashboards (rather than viewing visualisations from the NSAW application only), along with the ability to drill down into the underlying NetSuite data.
Scheduled to roll out over the next 12 months, other updates include:
More frequent data refreshes and the ability to schedule data refreshes by frequency and time
New line-level details for sales orders and inventory analyses
Single Sign-On (SSO) to NetSuite and NSAW
Role-based access to dashboards, enabling a tiered view of data
The focus on making NSAW more user-centric, actionable, and comprehensive will certainly be appreciated. We're getting a lot of interest in NSAW, and this is only going to up the interest among NetSuite customers.
Flexible new licensing model – more users, less cost
NetSuite will soon be introducing a new licensing model aimed at offering a more flexible and task-specific approach to user subscriptions. Rather than requiring all employees to have a full subscription to access the software, the new model allows for limited, function-specific licenses. This is particularly useful for employees who only need to use certain features of the software, like those in warehouse management roles.
We see the benefits as twofold - it's cost-efficient for the company, and it ensures that employees aren't overwhelmed with functionalities that they don't need. Instead of shelling out for a one-size-fits-all subscription, businesses can tailor their subscriptions to match specific roles and tasks. It's a sensible move, particularly for software as versatile as NetSuite, which caters to a range of business needs from finance to inventory management.
Field service management (FSM) – more efficiency, less cost
Service companies gain some valuable new capabilities with NetSuite Field Service – the result of Oracle's recently announced acquisition of Next Technik (an Australian firm, no less). Operating natively on the NetSuite platform, the application offers field-to-office communication features such as simplified scheduling, dispatch, automated inventory, and customer asset management.
NetSuite Text Enhance – more efficiency and personalisation
NetSuite Text Enhance - powered by a model from the AI firm Cohere - integrates AI to generate contextual and personalised content within NetSuite's range of products. Only time will tell how helpful this tool will be in assisting with text-based tasks, but NetSuite promises it will have wide appeal across departments:
Finance and accounting - expedite collections and accelerate writing tasks
Supply chain and operations - simplify procurement processes and improve product-related communications
Human resources - faster job description and requisition drafting
Sales and marketing teams - generate more personalised content for email campaigns and sales presentations
Customer support - efficiently respond to reviews and generate internal escalation notices
New NetSuite UX unveiled
There's a new look and feel coming for NetSuite. The award-winning UX framework, known as Redwood, promises to provide a consistent and more effective user experience across the NetSuite platform for years to come.
NetSuite gave SuiteWorld attendees a sneak peek by way of handy new NetSuite feature, Customer 360. Leveraging automation and AI, Customer 360 tracks customer behaviour and presents a summary of sales and key metrics, such as actual order values, and an overview for payments and credits.
NetSuite Benchmark 360 - compare business performance
Have you ever wondered how your company stacks up to other customers in the same industry and/or region? Now, you can compare your performance against your peers with NetSuite Benchmark 360, a tool designed for comparative analytics within the NetSuite ecosystem. It even provides actionable tips to help refine your processes and achieve greater success. Plus, NetSuite assures that the data used for comparisons is anonymised to protect individual identities and securely stored.
Other notable announcements from day one of SuiteWorld:
NetSuite CPQ subscription options - NetSuite's Configure, Price, Quote (CPQ) tool includes subscription options to accommodate recurring billing or service models.
NetSuite Capital: A new service facilitating early invoice payments to improve cash flow.
Transaction Line Distribution app - distributes a single financial transaction across multiple entities such as subsidiaries, departments, or product lines.
Our take on day-one announcements
So far, the emphasis has been on AI, automation and process enhancement, underscoring NetSuite's commitment to helping businesses achieve more with less. While many of these solutions are now available, some are yet to be released, and some have no release date in Australia.
While we see the potential in many of these latest features, apps and capabilities, the true test will be in how customers adopt these new features and whether the efficiency improvements NetSuite anticipates will come to fruition.
We will be back tomorrow with a wrap-up of day three of SuiteWorld 2023 – stay tuned!